On DEMAND

VIDEO


Communication panel discussion

Speakers
Valerie Carney, Poultry Innovation Partnership
Christine Noronha, entomologist, Agriculture and Agri-Food Canada
Karen Tanino, professor of plant sciences, University of Saskatchewan
Moderator:
Crystal Mackay, CEO, Loft32
---
Valerie Carney

Dr. Valerie Carney earned her bachelor's degree in agriculture from the University of Alberta and then her master's in poultry science, eventually obtaining a PhD from the University of Arkansas in poultry breeding. She worked directly in the industry with a major poultry breeding company in the U.S. before returning to Alberta. There, she spent 13 years working for Alberta Agriculture and Forestry as a poultry research and extension specialist. In 2018, she became the team lead with the Poultry Innovation Partnership. The goal of the PIP is to foster relationships among researchers, government and industry through guiding research and innovation, knowledge management and technology transfer. As a well-respected poultry researcher in Alberta and beyond, she not only leads poultry innovation at the University of Alberta, but also assists with training the next generation of poultry researchers through her work with graduate and undergraduate students. She has designed a number of tech transfer events including" "Cluck," the science behind the henhouse door; "Flock Talk," specific commodity conversations; and the Western Poultry Conference. Recently, she was recruited to the Alberta government's Results Driven Agricultural Research (RDAR) Cooperative Extension Task Force.
---
Christine Noronha

Christine Noronha originally relocated to Canada for postsecondary studies after a childhood fascination with science, plants and insects. Now an AAFC entomologist based in Charlottetown, her research on wireworm control has been recognized internationally and resulted in millions of dollars in savings for the industry. Beyond her research and its long-term impacts on Canadian growers, she has been recognized for her leadership in the science community and the local community. In 2016, she was awarded the Agrologist Recognition Award for Outstanding Contributions to Agriculture from the Prince Edward Island Institute of Agrologists. She is an adjunct professor at UPEI, where she has mentored the research of several honours and masters students. She has also mentored interns through the YMCA internship program and the Sanofi-Aventis challenge. She is on the board of directors for the Entomological Society of Canada and chaired the Equity and Diversity committee, and is part of a regular CBC radio show, What's Bugging You, where she speaks about various pests and insects found in homes and gardens.
---
Karen Tanino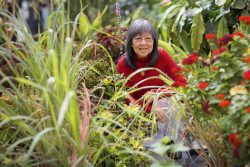 Karen Tanino is a professor of plant physiology in the college of agriculture and bioresources at the University of Saskatchewan, where she has been a faculty member since 1989. At that time, she was only the second female faculty to be hired by the college. Tanino has chaired several events that have affected the direction of agricultural research in Saskatchewan and Canada, including: Hort2020, Saskatchewan Food Summit, Northern Food Security Network under University of the Arctic, and a Canadian Society of Horticulture Science national conference. Her efforts with Hort2020 and the Sask Food Summit led to the creation of Prairie Fresh – a Saskatchewan grower co-operative, which resulted in an expansion of production and retail marketing of Saskatchewan horticultural crops from 2,500 lb. to over 3 million lb. of produce annually within 5 years. Tanino has maintained an active research program that encompasses cereal, pulse, forage, fruit, vegetable, ornamental, and tree crops; her curiosity is not limited to a single crop type. Her fundamental projects have provided a deeper understanding of the role of apoplastic and epicuticular barriers in plant stress avoidance, and temperature-mediated bud dormancy induction.
---
Crystal Mackay

Ag advocate and entrepreneur Crystal Mackay wears many hats. For more than 30 years, she has helped develop and launch structures and programs to help Canada's agriculture and food industry enhance and strengthen public trust. From her start as a summer student at the Ontario Farm Animal Council to the council's executive director at age 34, Mackay has served as a representative both for and to the industry. Now as the founder of Loft32 and Utensil, Mackay's work focuses on elevating people, businesses and conversations around food and farming, as well as equipping people working in the industry to be more confident as spokespeople.