Virtual Event
Influential Women in Agriculture Summit 2021
October 19, 2021 at 12:00pm ET
JOIN THE CONVERSATION
Join us for our second annual Influential Women in Canadian Agriculture Summit, a virtual event designed to inspire, educate and mentor Canadian women in agriculture.
In 2020, we launched the Influential Women in Canadian Agriculture (IWCA) program to recognize women across Canada's diverse agriculture industry. Now in its second year, we received and reviewed countless nominations for women making innovative and important contributions to all ag sectors.
This year, seven IWCA honourees were chosen by the agricultural publications at Annex Business media. Now, on October 19, they will come together virtually to share their experiences, life lessons and more for the 2021 IWCA Summit.
Register today for this virtual mentorship event with some of the most influential leaders in Canadian agriculture.
Be entered to win a pair of Dovetail Workwear pants of your choice by registering and attending the IWCA Summit. Follow @dovetailworkwear.ca on Instagram for bonus entries! The winner will be announced during the summit.
Register Now
Schedule
12:00 pm – 12:05 pm
Opening Remarks
Speakers:Bree Rody, Editor, Manure Manager and Drainage ContractorAlex Barnard, Associate Editor, Agriculture, Annex Business Media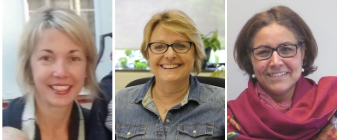 Panelists:
Andrea McKenna
Tina Widowski
Noura Ziadi
How can those starting out in agriculture find their niche, grow their skills and capitalize on relevant opportunities? And what responsibility do more established ag professionals have in helping others develop their careers?
Panellists:
Ellen Sparry
Leona Staples
In order to build one's brand and make change, one has to know how to engage with various communities. How can we build strong, engaged communities in agriculture, whether through traditional or more innovative means?
1:25 pm – 1:40 pm
Break
Panelists:
Simone Demers-Collins
Crystal Mackay
Kim Keller
Moderator:
Darlene McBain - Industry Relations Manager Farm Credit Canada
No career is without its challenges, and given the unique nature of agriculture, adversity can feel even more difficult to overcome. Participants will share how they've worked through setbacks and the lessons they've learned as a result.
2:20 pm
Closing remarks
ON DEMAND
Candy Keith is the lead technician at the University of Guelph-Ontario Crop Research Station in New Liskeard, where she oversees both the Superior Plant Upgrading and Distribution ("SPUD") Unit as well as the horticulture unit. Besides managing aspects of the facilities itself, Candy also manages one of the most valuable assets: the people. Heading a predominantly female team with limited resources, Candy shares the challenges and opportunities she's learned from over the years, including planning around child and elder care, keeping a healthy team dynamic, promoting colleague mental health and wellness and more.
For nearly 40 years, Claudia Wagner-Riddle has led collaborative research teams addressing many aspects of agronomy including soil health, productivity and nutrient loss. Throughout her career she has advised 27 MSc and 13 doctoral students to completion of their theses. She also leads a group of University of Guelph scientists in a new outdoor soil monitoring laboratory. Over many years, she has established her voice on a natural level to promote climate-smart soils and has lent her voice and expertise to many industry programs. In this session, Claudia shares how she's engaged with different communities throughout the years, the intangible qualities that make a good leader and how to confidently bring new ideas to the table.
Kelsey Banks might already sound familiar to you, especially if you're a part of the #AgTwitter community. Banks, a farmer and agronomist in eastern Ontario, has grown an incredible network of contacts in person and online. Besides sharing agronomy tips, seasonal updates through photos and videos, and funny memes on Twitter, Banks gave her followers a glimpse of her journey through diagnosis and treatment of a brain tumour, and all of #AgTwitter cheered her on as she kicked Bob the brain tumour to the curb this past year.In this interview, Banks shares her passion for helping farmers, the importance of the support she received from her community through her cancer journey, and advice for fellow young women working in agriculture.
Product Demos
Learn how the small egg has a big impact on Canada | Egg Farmers of Canada
Frequently Asked Questions About Influential Women in Agriculture Summit 2021
When & Where?
Influential Women in Agriculture Summit 2021 will take place virtually via GoToWebinar on October 19, 2021 at 12:00pm ET.

There will be a 10 minute break between live sessions.
Why Virtual?
The safety and wellbeing of our employees, customers, and community is our number one priority. By making this event an online experience, it eliminates the need for attendees and sponsors to travel in-person, while enabling them to still benefit from the event content.
What's Included?
Your registration provides you with access to watch the virtual keynote, all live sessions, and on-demand recorded content and product demonstrations.
How do I access?
We will email you an access link to the virtual event the morning of October 19, 2021.
If you don't see an access link in your email inbox, please check your junk folder. If you are still unable to locate the email, contact
Tara Jacobs
.