Summits
Influential Women in Agriculture Summit 2022
October 18, 2022 at 12:00pm ET
Since 2020, the agriculture publications at Annex Business Media have celebrated the achievements of women in Canada's agriculture industry through the Influential Women in Canadian Agriculture (IWCA) program.
This year, seven IWCA honourees were chosen by our team. On Oct. 18, they came together virtually along with other prominent trailblazers in agriculture to share their experiences, life lessons and more for the 2022 IWCA Summit.
Schedule

Speaker:
The Honourable Marie-Claude Bibeau, Minister of Agriculture and Agri-Food, Government of Canada

Speakers
Valerie Carney, Poultry Innovation Partnership
Christine Noronha, entomologist, Agriculture and Agri-Food Canada
Karen Tanino, professor of plant sciences, University of Saskatchewan
Moderator:
Crystal Mackay, CEO, Loft32

On DEMAND
VIDEO
Keynote
Featuring
Megz Reynolds, executive director, Do More Ag Foundation
1:05 p.m. - 1:20 p.m.
Break
Speakers
Lisa Mumm, Mumm's Sprouting Seeds
Lana Shaw, research manager, South East Research Farm
Heather Watson, executive director, Farm Management Canada
Moderator:
Andrea McKenna, executive director, East Prince Agri-Environment Association
Speakers
Mary Ruth McDonald, professor and research program director, University of Guelph
Rachel Plett, chicken farmer and field services technician, Manitoba Chicken Producers
Kate Sanford Mitchell, global director, portfolio marketing, Acadian Seaplants
Moderator:
Peggy Brekveld, president, Ontario Federation of Agriculture
Agri-Food Management Excellence's Heather Broughton discusses how she came into the agriculture world, how she uses her unique skillsets to solve problems and how organizations like WEKH are working to identify gaps and empower women.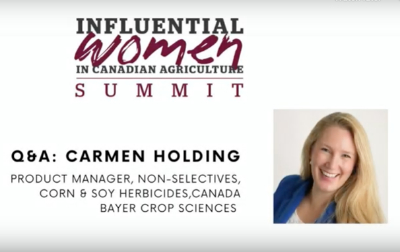 Bayer's Carmen Holding discusses her career journey – what's made her feel good as one of the only women in a boardroom, where she's found support throughout her career and what "stretches" and risks she's taken over the years.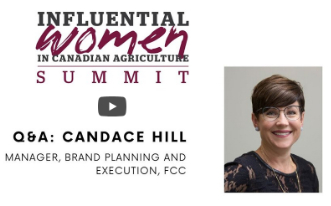 Farm Credit Canada's Candace Hill discusses learning the value of authenticity, vulnerability and ignoring her inner critic in connecting with others over the course of her 20+ year career in Canadian agriculture.
From our sponsors
Introducing the Women Entrepreneurship Knowledge Hub (WEKH)
Frequently Asked Questions About Influential Women in Agriculture Summit 2022
When & Where?
Influential Women in Agriculture Summit 2022 will take place virtually on October 18, 2022 at 12:00pm ET.

Join us from wherever you're most comfortable!
Why Virtual?
The inaugural IWCA summit took place virtually in 2020. Since then, attendees from around the world have noted how much they enjoyed the flexibility, informal, affordable and safe environment the summit offers.
Sponsorship Opportunities
To participate in the event as a summit sponsor, please reach out to
Michelle Bertholet
How do I access?
We will email you an access link to the virtual event the morning of the event. If you don't see the link, please check your junk folder.
Still unable to locate the email? Contact
Tara Jacobs
.